Regular price
$129.99 USD
Sale price
$79.99 USD
Unit price
per
Sale
Sold out

Introducing "Ella: The Patriotic Pin-Up" - A Customized Military Tribute!
Celebrate your love for the USA with our stunning pin-up artwork featuring Ella. This unique creation captures the essence of American patriotism, showcasing Ella's grace and strength while floating on a beautifully crafted USA flag. Customize Ella's appearance to reflect your vision, from face, hair and eye color. This exclusive piece pays tribute to our military heroes, reminding us of their sacrifices and our cherished American values. Display Ella: The Patriotic Pin-Up proudly in your home or office and honor the brave men and women who defend our freedom. Order now and embrace the spirit of American pride!
Portrait Creation Process

Step 1: Choose your pose from one of our featured girls. All girls are named under their picture. All poses and clothing will stay the same. For best results, upload pictures of your face that match the angle of your chosen pose. You can also add comments for our artist if you have any identifying characteristics you don't want them to miss. Example: hair color, hair style, tattoo's, skin tone, eye color…

Step 2: After our artists create your personalized portrait, you will receive an email link to view your proof of the design.

Step 3: Once your portrait has been approved, you will receive a final high quality version of your artwork through an email link. You will also be sent information via email on how to order personalized prints directly from us. You can browse some of our selected print items by visiting here.
Tips For a Perfect Portrait

Details

Please do your best to include any and all details as to how you would like to be drawn. For example..."I'm a dark brunette" or "she has a mole above her lip." or "I would like the body shape like mine"...

Pictures

If your selected pose is a side profile, please do your best to include an uploaded image with the same profile. This ensures we capture all the details correctly to make your portrait perfect!
Got More Questions?

Head over to our FAQ's for the most common questions and answers.
Looking For Other Design Styles?
Share
View full details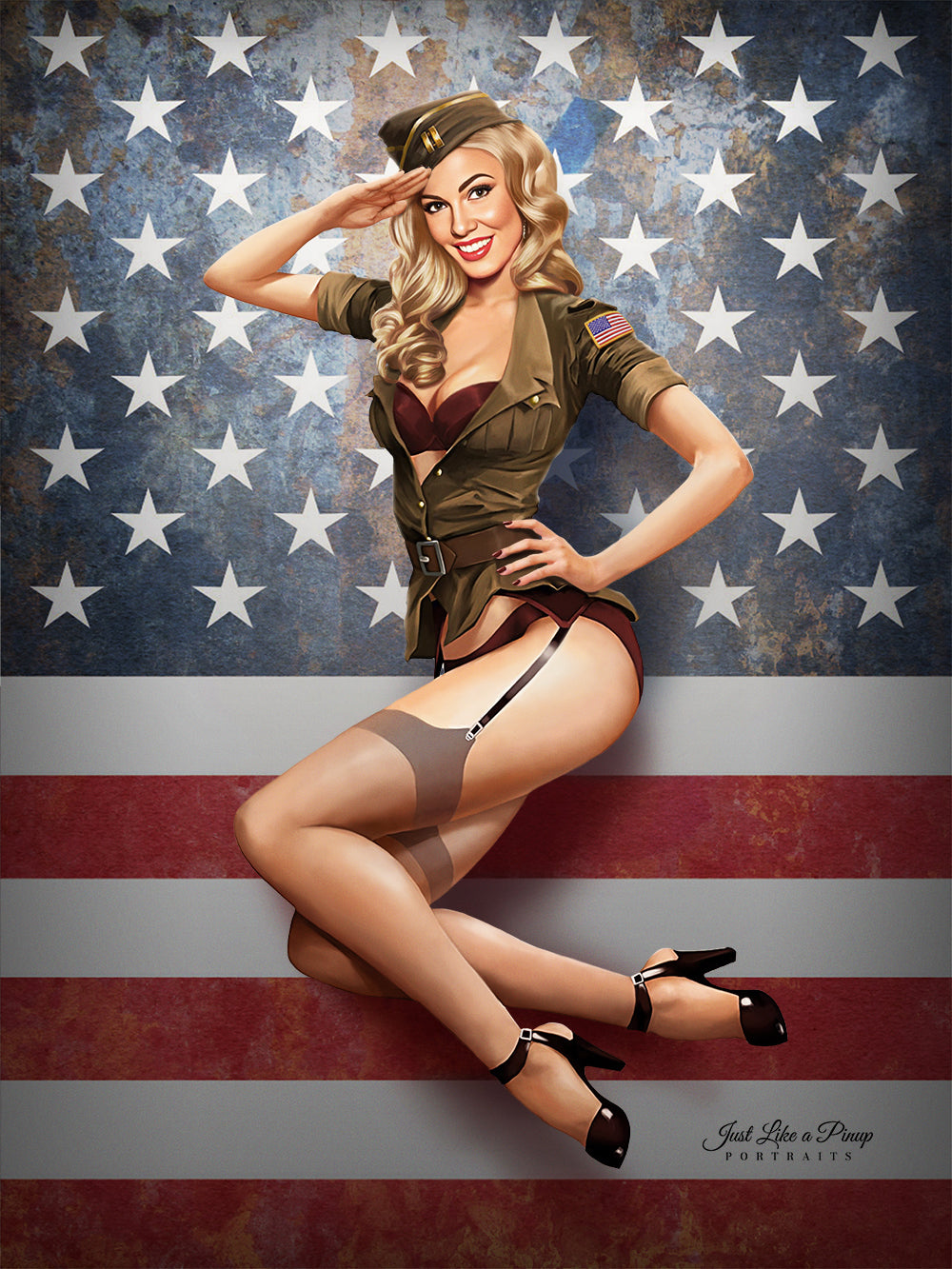 I am enjoying the picture. The proportions seem to be a little out of order. My wife, the model, says her head and upper body appear in smaller scale to the lower portion, but as I said I am enjoying it very much. Love the flag in the background.
Sexy Patriotic Self Portrait
Ordered this for my husband for his birthday! Absolutely love it and he was so shocked and happy with it!! Such a great way to give your loved one something patriotic that honors them as a veteran but displays you in a realistic way and shows your sexy and seductive side! Highly recommend !!
Custom Just Like A Pin-Up Digital Portrait - Ella
Awesome!
I love the portrait you made of my wife!! I can't wait to hang it on my wall and show it off!!